Sometimes, a real-world application helps us to take a complicated subject and simplify it. This makes it easier for hardworking, but unfamiliar professionals to grasp the underlying concepts. It also enables roofers to take the misfortunes others have experienced, then bypass those frustrating situations.
As our name suggests, our team at Roofing Webmasters supports roofing professionals from all over the United States. We've seen all sorts of unique challenges, shady business practices, and downright jaw-dropping situations! That's where our marketing case studies come into play. 
If you've encountered branding, advertising, social media, content marketing, or generic search problems with your business, be sure to check out these invaluable resources. You can also talk with one of our professionals directly to discuss your circumstances.
What is a Case Study?
A case study is simply a real-life story that's related to the industry. In our marketing case studies, we talk about situations that directly affected our business, clients, and/or prospective clients. Usually, they revolve around a specific challenge that a roofing contractor had to overcome, and how our team at Roofing Webmasters constructed a solution to address the problem.
In truth, most of these marketing case studies are success stories. Regardless, take some time to carefully read through each study and look for the lessons that could benefit your business. Some people will glean different ideas from the same story. That's okay!
The Purpose of Our Marketing Case Studies
At Roofing Webmasters, we have many reasons for writing these stories. For one, it gives a clearer picture of our services and how they function in the real world. It's easy to say "Yay! SEO for roofers is really important. We're the best!" With a simple case study design, however, we can more effectively communicate exactly what we do and how we affect the performance of contractors.
More importantly, our case studies tackle some of the biggest challenges that roofing professionals are facing in the industry. Potential topics include:
Getting noticed in local search, despite a congested market.
Finding a more productive strategy for organic SEO and/or PPC campaigns.
Overcoming past situations with dishonest or ineffective marketing professionals.
Creating a seasonal marketing plan for stronger sales.
Taking an old website and domain, then crafting a more effective site.
Fixing a frustrating client situation.
We're looking to provide valuable information and words of warning to save you money, time, and effort in growing your business. If you read one of our marketing case studies and recognize a situation you've encountered in the past, we'd love to hear about it!
How We Conduct Studies
A lot of our stories center on improving performance in search engine rankings and site traffic. As such, we collect a lot of data from Google Analytics, Search Console, and basic search queries. Our sales team and onboarding experts also pass on many fascinating stories from businesses from around the country.
You'll probably hear a few key terms on a recurring basis, such as:
Site Visitors / Users / Traffic
Sessions
Pageviews
Bounce Rate
Exit Rate
Conversion Rate
Call to Action
Content
Keywords
Time on Page / Session Duration
Organic Search / SEO
PPC / Paid Search
These terms help gauge the overall performance of your website, and the effectiveness of the content within. If you don't understand a particular term, that's perfectly fine. You can always call us at (800) 353-5758 to get clarification on an idea. You'll also find some helpful references online, such as MOZ's amazing search term glossary.
It's important that we find a quality balance between the numerical data that we process and practical applications.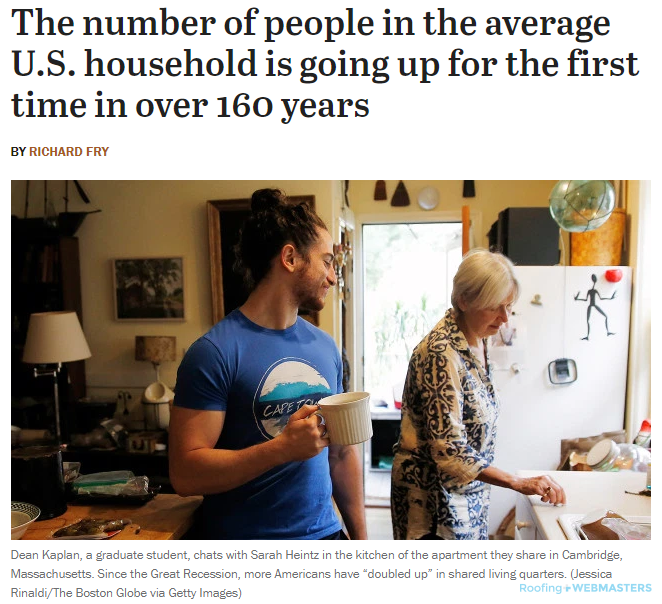 How We Collect Data
Analytics and Search Console comprise most of the data you'll find in our marketing case studies. We also draw from search industry giants like MOZ, the Search Engine Journal, and Search Engine Land. For instance, we recently referenced the Pew Research Center in another industry article where we revealed that the average household size is actually growing for the first time in over 160 years!
Frankly, crunching numbers gets pretty boring after a while, so we tend to err on the side of relevant storytelling. With that being said, pay close attention to which analytical tools we use. You may find a new resource for examining your own marketing efforts!
How a Case Study is Written
We generally start our case studies by describing a problem, then we explore the circumstances of it. These real-world situations feel all too familiar for many. You can sense the frustration, fear, and anger that these roofing contractors go through. You'll also feel the sweet relief that comes towards the end of our story.
Of course, we'll connect with other related resources and stories with each marketing case study. We may also link to relevant services provided by the Roofing Webmasters. You can follow these links to discover additional information about the topic.
Organic and Paid Search Experts
Finding that winning strategy for your business can be a real challenge. While no two roofing companies are completely alike, most heavily rely on search marketing for their continued revenue and growth. As the days of door-knocking fall further and further behind us, it pays to stay up to date on search engine optimization and other online branding tools!
Thankfully, that's a task you don't have to take on by yourself. At Roofing Webmasters, we take businesses from all over the United States and enhance their performance in search through custom web design. Not only do our clients regularly enjoy front-page rankings, but they also earn higher traffic, stronger leads, and better conversion rates.
See the Difference!
Digital marketing takes guts, which is why our team makes it as easy as possible to take your first steps towards higher performance. $99 is all it takes for your first month. After that, we switch to a simple flat rate. Find out why so many businesses come to our team for lasting growth by calling (800) 353-5758 and scheduling your free consultation.